Fandom: Leverage
Pairing: Sophie Devereaux/Nathan Ford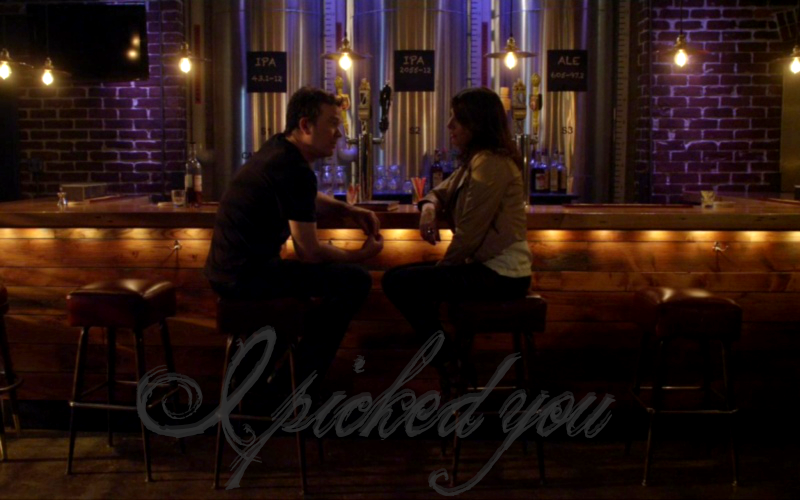 Blurb:
Normally when I start talking about these two, all thoughts eventually devolve into "ALL THE FEELS!!" because they are every bit as complicated and angsty as I could ever wish for and yet they still manage to be adorable at the same time.

This is a pairing that started the first season of the show with ten years of history that they share. And they almost never talk about it. There are enough conversations to let the viewers know that they engaged in a "cat and mouse" sort of relationship during the time Nathan Ford was an insurance cop and Sophie Devereaux was a grifter who stole art and other valuable objects. But the details are sparse because this show is not only about thieves helping out people who have been screwed over but also about how these thieves are changing who they are now and what that means for their presents.

With Nate and Sophie, it doesn't matter much what happened before because they spend a lot of their time starting over in their relationship. When Nate asks Sophie to join the crew, it becomes obvious that Sophie has very strong feelings for Nate and she assumes he feels the same for her because he came looking for her. And Nate is too damaged to have any sort of romantic relationship with her.

This starts what may be one of my favorite things about them. They become friends. Sure, they still flirt and it's obvious that they still want to be with each other, but they manage to come to this understanding that they can be friends and give each other the space to work out their shit. It takes awhile (three whole seasons, people), but it's worth it in the end when they finally become comfortable with each other.

And then they start sleeping together, which could have ended up in disaster, but even though Nate and Sophie don't call whatever they're doing a "relationship," they still talk to each other and listen. And it's so beautiful because their interactions are always layered with more than one meaning since their history means they can talk on several different levels at once and know that the other gets it.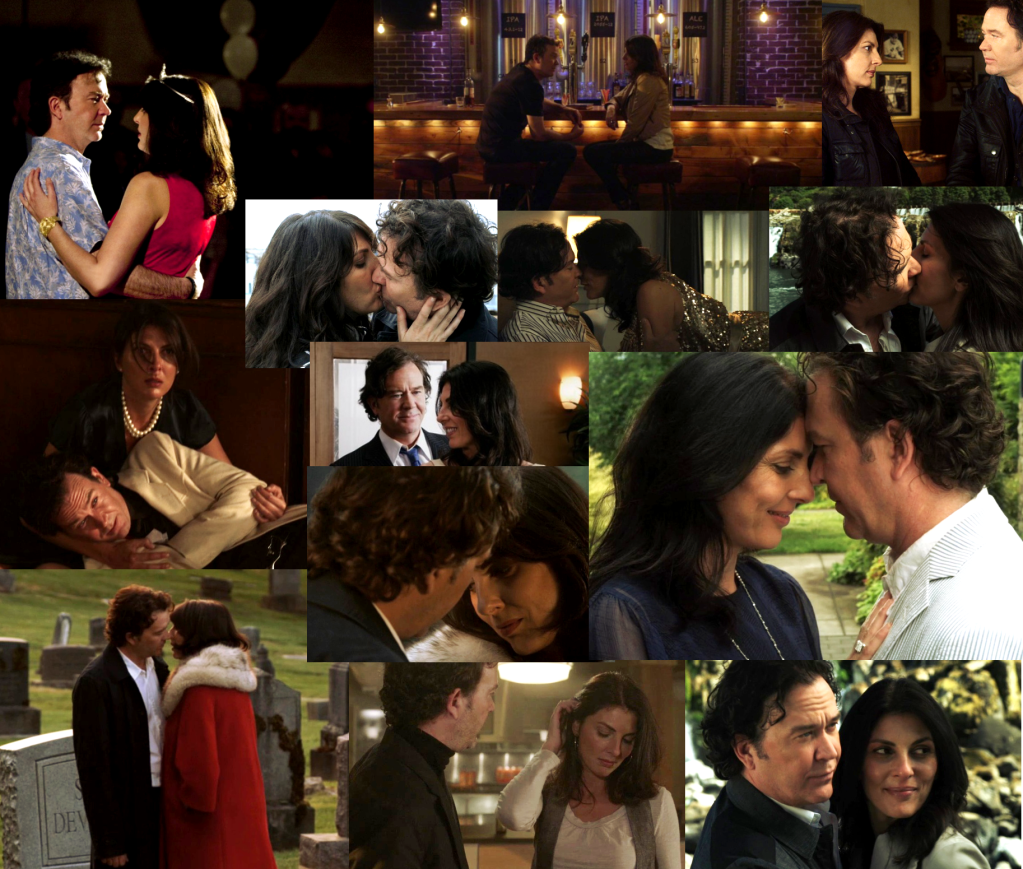 So, since letting me talk about Nate and Sophie and then asking for fic recs is kind of like letting a five-year-old kid loose in Willy Wonka's Chocolate Factory without supervision, I give you my list of recs.

Fic Rec #1: Pursuit
Author: wontquitmydayjob
Link: (Here)
Rating/Warning(s): T


Excerpt:
He was still quiet as they took a taxi back to his hotel, and then as they got near, said suddenly, "What do you want from me, Sophie?"

She almost answered with a quip, something funny, to brush off a question that she knew, from his tone, he was serious about. The taxi drew up in front of his hotel, and despite the driver there, he waited for her to answer.

"I don't know," she said simply. "I just want to see you."

She could tell that surprised him. He reached out like he was going to touch her, but then just tucked a bit of hair back behind her ear, so lightly she hardly felt it. "Good night, Sophie."

And he was gone. He didn't look back as he walked into his hotel, and she found that her voice shook slightly as she gave the driver her address. She wondered if she'd ever see him again.


---


Fic Rec #2 5 Times Nate and Sophie Weren't Sleeping Together
Author: wontquitmydayjob
Link: (Here)
Rating/Warning(s): T


Excerpt:
"I'm not sleeping with him," she protests.

"Riiiiight."

"I'm not! He's married."

"And…?"

All right, that's fair. She doesn't go after married men, but she has conned more than a few men while pretending not to notice the obvious wedding-ring tan.

"You obviously want to be sleeping with him."

Sophie finds she can't argue with that.


---


Fic Rec #3: Say Goodbye to the Old Ways
Author: lillypilly11
Link: (Here)
Rating/Warning(s): T


Excerpt:
He looked down and nodded. "Yeah - yes. I'm okay. I mean, I'll be okay. Thanks, though," he looked up at her, his gaze stead on hers. "For... you know. For being here with me."

The lights changed then allowing them to cross, and interrupting the moment - she was almost glad for it.

This new Nate, the one who had no trouble asking for support, who reached out to her unprompted, she didn't know quite how to feel about it. He'd been through a lot, and though he spoke of big plans and changes, when it came to people, change didn't come overnight. Or at all. And they'd spent so many months now - make that years rather - carefully not defining their relationship.

But at the same time, she knew what she wanted, she always had. And she badly wanted to trust this new openness in him.

Because when he said he didn't want to be alone, it didn't sound like he just meant tonight.


---


Fic Rec #4: it's a cold, cold place in the arms of a thief
Author:
hihoplastic
Link: (Here)
Rating/Warning(s): R

Excerpt:
Two shadows on a king-sized bed.

One is long and languid, and reaches from the head to the foot. It is covered in blankets and hums softly with sleep. The other is lithe, broken, hunched over the side; a crumpled shape that smears the moonlight with its envy.

He is beautiful like this, she admits - jaw slack, eyes closed, cheek turned into the pillow. His hand stretches out in the space between them, reaching for something he can't have; something she'll never allow him.

It's a pity, she thinks, for something so precious to become a casualty.

With a breathless sigh, she rises; her shadow unfolds; the bedding shifts with the loss of her weight; he mummers in his sleep.

Silently (unnecessarilyy--he'll be out for hours--white powder in his drink, laughter, kisses, hands, hands, hands--) she finds her dress in the dark and tugs it over her head. She slips easily through the apartment, finding her way by memory and touch. The files are where he left them, along with the money. The numbers on her cell phone glow harshly, and the voice on the other end is amused. He gives her instructions; she abides.

She will leave before dawn, and tomorrow, she will act her part.



---


Fic Rec #5: when in rome
Author:
cartography
Link: (Here)
Rating/Warning(s): R

Excerpt:
After who knows how many kisses, her hands wind around his neck as his arms cross over her back, and they pull each other closer closercloser, until there's no space between them at all. It's the desperation that gets to him, the way she clutches at every part of him that she can reach, and the way he does the same to her, too.

Her fingers dig too deep into his shoulder, but he barely notices, hardly even realises he'll have bruises in the morning. The morning no longer matters; all that does is this moment now.



---


Fic Rec #6: feel the static
Author:
cartography
Link: (Here)
Rating/Warning(s): T

Excerpt:
Before she can even consider asking him about it, though, Nate whirls around to face her, something in his eyes she hasn't seen in quite some time, and suddenly, the tension that's been surrounding them constantly is of a whole different sort. The step he takes brings him right into her personal space, and then even closer, his face inches from hers. The breath on her lips isn't her own, and her throat has turned into parchment or something equally dry. She waits. She waits and waits, for courage that lacks now of all times, for him to do something, for the universe to implode before they can go where they seem to be headed with the speed of light.

The universe doesn't implode. He doesn't kiss her, either, but he comes close, closer than he has in years, and that alone leaves her a little light-headed (and cursing the effect he still has on her).


---


Fic Rec #7: All the More For That
Author: nightcamedown
Link: (Here)
Rating/Warning(s): T

Excerpt:
"What did she look like?"

That question was the bane of his existence in the aftermath of his interactions with the elusive Ms. Devereaux. Inevitably he would be asked, whether it was by law enforcement, or rival investigators, or just the blank pages of his report staring up at him. "Did you get a look? Can you give us a description?"

It irked him that they wanted her height and weight, or that they thought the color of her hair would help them catch her. She has sin in her voice and victory in her eyes, he wanted to say, and if you let her speak you've already lost.


---


Fic Rec #8: In Betweens
Author:
bandwidth_limit
Link: (Here)
Rating/Warning(s): T

Excerpt:
To his credit, Nate had always been good at making her do things she had no experience in. Like running. And now, for the past three years, he had been dragging her through the hardest in between of her life. She'd tried to run from it (after all the years he'd chased her, she had become quite adept at running), and he had followed and pulled her back in. And the manipulative bastard had been shot, imprisoned, and then turned down her perfectly good plan to get him out, only to devise his own.

He was infuriating. She was determined now, not to let him get to her. Not even a little.

It worked until San Lorenzo. They had eventually resumed their back and forth, but she had been convinced that she had a handle on the situation. But, after a truly spectacular death scene, and what may have been too many glasses of wine, her world view had shifted. Surprisingly, she liked it better from a horizontal view.

The next morning she likes it less.


---


Fic Rec #9: you and I now, we can be alright
Author:
cata_clysmic
Link: (Here)
Rating/Warning(s): R

Excerpt:
He leaned over and kissed her like it was the most natural thing in the world. Like the moment wasn't tense, like they'd never fought over anything a day in their lives. Like maybe he realized there wasn't a damn thing stopping them anymore, and all either of them wanted these days was for the other to stop skirting, stop running, and give in. It was gentle at first, the kiss, and soft; it was familiar, something they both remembered how to do, right up until the moment she opened her mouth to him with something like a whimper and he ran his tongue experimentally along her bottom lip (tasted the whiskey there). After that, it became territory uncharted. Their bodies flared up, a fire stoked sky-high: two bar stools crashed to the ground and they flew together like magnets.


---


Fic Rec #10: Light Keeps Streaming Out Between the Stitches
Author:
foreverwriting9
Link: (Here)
Rating/Warning(s): PG

Excerpt:
"Listen: I picked you." Nate's fingers rest gently against her elbow, stopping her. "I didn't pick the others. Hardison, Parker, Eliot. I picked you. All right?"

Sophie smiles, and leans in to kiss him, her fingers tracing the top of his jacket pocket. If this was years ago, the kiss would be a ploy, and Sophie would dip her hand into his pocket and pluck out his wallet, but this is now (and besides, she knows where Nate hides his wallet in his bedside table).

He tastes faintly like lemon, and when he breaks the kiss and rests his forehead against hers, his eyes remind her of the stormiest, bluest sky. Sophie runs her tongue over her lips and watches his pupils dilate before she finally turns toward the taxi cab where Parker is waiting for her. Nate opens the door for Sophie, his fingers catching on her hip as she brushes against him. "Soph," he says softly. She slides into the taxi and smiles up at him just before he closes the door. "Nate," she says in response, and she hopes he can hear just how much she loves him.


---


Fic Rec #11: This Word Is Not Enough
Author:
foreverwriting9
Link: (Here)
Rating/Warning(s): PG

Excerpt:
Nate gently wrestles the shot glass from her hand, tosses it back, and winces at the fire that starts in the back of his throat. Then, he kisses her.

She tastes like mint and alcohol.

Nate breaks the kiss, resting his forehead against hers, sucking air into his lungs like a dying man. "Do you ever wonder," deep breath, "if we're getting too old for this?"

Sophie's fingers twist the buttons on his shirt, and she laughs. "'It's not the years, honey, it's the mileage'."


---


Fic Rec #12 in the still of silence
Author:
abvj
Link: (Here)
Rating/Warning(s): R

Excerpt:
After, it is just she and Nate in his empty apartment – separated by the distance that has been put there, their differences that drive them together and the similarities that drive them apart. Nate stands by the counter in the kitchen. Sophie lingers in the doorway, her line of sight catching his, and it is the first time he has looked at her since she said, aloud, that she was leaving.

Nate looks at her as though he can see right through her, through all the lies and the facades she has so carefully constructed, and it unsettles her almost completely.

Sophie is the first to look away.


---


Fic Rec #13: all the words that I know
Author:
abvj
Link: (Here)
Rating/Warning(s): R

Excerpt:
There have always been things they don't say and lines they don't cross, even in the beginning when they were adamant about being nothing to each other. Nate and Sophie have been toeing the undercurrent that exists between them for so long now that she can do it from muscle memory alone. She knows when to push and when to pull back. She knows when he's looking for a fight, when he goads her into argument just to have some semblance of human interaction. She also knows that whiskey in his morning coffee equates to a normal day, but whiskey straight from the bottle and hidden in the coffee mug means Nate spent the previous night dreaming about Sam, about all the things he should have done, all the things he blames himself for but had absolutely no control over. She knows those are the days when she can't back down, the ones where she needs to push harder and fight louder. Sophie knows those are the days he needs her the most even if the words never leave his mouth.

Mostly, Sophie knows that she unashamedly, unequivocally loves Nate as much as she's ever loved anyone. She knows that she loved him in the beginning in her own twisted way and that love grew and lessened simultaneously for years until they met again on equal footing, until it finally became something more, something entirely different from anything she's ever known. She also knows that Nate loves her in his own way, the best he knows how. He never says it, but she knows he truly realized it, allowed himself to feel it fully in San Lorenzo. It is why he pulled away after, why he resisted the idea of them so adamantly while concurrently allowing himself to fall into her again and again so easily.


---


Fic Rec #14: the more things change
Author:
abvj
Link: (Here)
Rating/Warning(s): R

Excerpt:
Already she's thinking about the next time they can be alone, wants him between her legs, his mouth on hers. She longs for the feel of his weight above her, against her, and she smiles out of the side of her mouth when his fingers fall from her wrist and instead curl around the subtle curve of her hip.

Somebody clears their throat, loudly, and both she and Nate snap their heads up to find Eliot watching them, lips pressed into a thin line. His eyebrow is raised. Hardison and Parker continue to argue in the distance.

"Seriously?" Eliot mutters, but there is a smile hidden underneath somewhere, that usual edge to his voice absent.

The teakettle whistles and Sophie laughs softly, unaffected. The tips of Nate's ears turn the faintest shade of pink, and she knows him, knows that he's fighting his body's natural urge to recoil, to shy away from her completely.

Still, he doesn't let go.


---

Fic Rec #15: reciprocity
Author:
scarletts_awry
Link: (Here)
Rating/Warning(s): R
Excerpt:
"Nate, you said yourself that you had been tempted." She holds open the suit jacket and helps him put it on. Her fingers brush the back of his neck, where his hair curls a little

"Yeah, I was tempted." He turns and settles his hands on her waist, leaning in close like he's going to kiss her. "I always knew better."

Sophie shifts closer to feel his hands tighten. The warmth of his skin bleeds through the silk of her dress. "You're that sure," she says.

"You were never innocent." Nate cups her face and kisses her forehead, and Sophie laughs.

"That makes us even, then." Sophie pushes him away.

"Hey, I thought I was the good guy," he says, a touch of a frown, fingers skimming down her forearm.

"There's a difference between honesty and innocence." Sophie backs him toward the door because it's time. Nate raises her hand to his lips, but the look he gives her, the intensity in his eyes, is filthy. "Yes, you're very gallant," she says.

"I try," he murmurs. His breath is warm on her fingers. Sophie takes her hand back and opens the door for him.

"Go get him, Nate." She opens the door and touches the small of his back as he leaves.

Sophie checks the room over, making sure that nothing's out of place, before she gives in and follows Nate downstairs. The heat of anticipation makes her skin prickle. Carefully, Sophie positions herself at the edge of the half-crowded bar. If anyone else were playing the bait, she would want to talk them through the seduction, but she knows Nate's game firsthand, knows him backward and forward. He's certainly good enough to hook Talbot.