In addition to any recs you wish to post at any time
, the comm has bi-weekly rec challenges issued by the mods.
Challenge 84: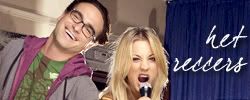 Category:
The Big Bang Theory
Fandom:
Any
Deadline:
March 10
Challenge: Rec us your favorite
The Big Bang Theory
fics. Any and all het pairings welcome! Just c/p the text below:
You do not need to ask for posting rights. Just become a member and rec your favorites!
Feel free to pimp this comm to your friends so that we get more
The Big Bang Theory
fans!
___
There are still a few days left to fulfill this month's special requests. If you know of great fics for the following pairings, please share them with us!
A Song of Ice and Fire, Sansa Stark/Jaime Lannister
Being Human, Nina/George
CSI:NY, Stella Bonasera/Mac Taylor
Eastwick, Roxie Torcoletti/Darryle Van Horne
Farscape, Aeryn Sun/John Crichton
Harry Potter, GirlHarry Potter/Draco Malfoy
Harry Potter, Hermione Granger/Cedric Diggory
Harry Potter, Hermione Granger/Fred Weasley
Hart of Dixie, Zoe Hart/Wade Kinsella
How to Train Your Dragon, Astrid Hofferson/Hiccup Horrendous Haddock III
Hunger Games, Katniss Everdeen/Finnick Odair
Law & Order, Connie Rubirosa/Mike Cutter
Once Upon A Time, Snow White/Prince Charming
Sherlock, Molly Hooper/Sherlock Holmes
The Girl With the Dragon Tattoo, Lisbeth Salander/Mikael Blomkvist
The Mentalist, Anyone/Kimball Cho
The Vampire Diaries, Elena Gilbert/Klaus Mikaelson
White Collar, Elizabeth Burke/Peter Burke