In addition to any recs you wish to post at any time
, the comm has bi-weekly rec challenges issued by the mods.
Challenge 56: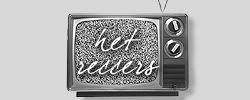 Category:
TV Shows That Were Canceled Too Soon (3 seasons or less)
Deadline:
January 25
Challenge: Rec us your favorite fics from TV shows that were canceled too soon. We want recs from any series that had 3 seasons or less - shows like
4400, Arrested Development, Better Off Ted, Caprica, Dark Angel, Dead Like Me, Dollhouse, Dresden Files, Earth 2, Everwood, Firefly, Flashforward, Freaks and Geeks, Jericho, Kyle XY, Legend of the Seeker, Life, Life on Mars, Moonlight, My So-Called Life, Pushing Daises, Roswell, Sports Night, Standoff, Terminator: Sarah Connor Chronicles, Tru Calling, Twin Peaks, Veronica Mars, Wonderfalls,
and more! Any and all het pairings welcome! Just c/p the text below and post it as a new entry:
You do not need to ask for posting rights. Just become a member and rec your favorites!
Feel free to pimp this comm to your friends so that we get more het fans!