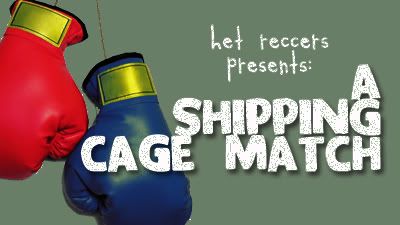 Rules/Directions
1. Only one pairing per question will advance to the next round, so vote for your FAVORITE pairing in each poll.
2. NO WHINING. NO BASHING. NO BADMOUTHING. This is a space for
positive love only.
If you have a problem with adhering to that, I won't hesitate for a micro-second to ban you. This comm is an awesome, friendly comm, and if this thing gets wanky, I'll just shut it down. Please, please pretty please don't make me do that. You want Pairing X to win over Pairing Y? Then spam the comments section with love for Pairing X. Don't bash/badmouth Pairing Y. Don't start ripping on a character, or fellow LJ users. (If you see problematic comments, please inform a mod (
peanutbutterer
,
hariboo
or myself) by PM immediately.)
3. There will be six rounds. The first round will have a 128 ships in 32 questions (4 ships per question). Only the top choice in each question will proceed to the next round. (Mods picked the top 128 ships by rummaging through
our tags
and picking only those ships that had five or more usages.) Then, there will be 2 ships per question in the following rounds, and each round will successively eliminate half the pairings. So it'll be 128 ships -> 32 ships -> 16 ships -> 8 ships -> 4 ships -> 2 ships -> WINNER. The dates of each round will be held on: 10/1 Round 1, 10/6 Round 2, 10/11 Round 3, 10/15 Round 4, 10/20 Round 5, 10/25 Round 6. Winner declared on the last day of the month.
4. HAVE FUN. Start up threads below. Title your subject lines with the pairing/topic. Make banners! Pic spams! Gifs! Quotes! Meta essays on why your OTP rocks! POSITIVE LOVE ONLY.
PIMP THIS OUT TO YOUR FRIENDS!
ROUND ONE IS CLOSED
, AND THE SECOND ROUND NOW CLOSED!
Choose!
bones: temperance brennan/seeley booth
firefly: zoe washburne/hoban washburne
ETA: PROCEED TO
ROUND THREE
.
... and some hastily created pimping banners. Apologies about the quality, but I didn't have time to make 'em extra-pretty. (If people would like to make Campaign banners, that'd be immensely appreciated!)